World Breastfeeding Week
Summer is short here in Maine, and I've been busy in the garden and in the kitchen, freezing some of what I've picked (blueberries, raspberries, green beans, peas, cucumbers, lettuce and the first tomatoes!) for the winter and trying to find ways to prepare the rest. Just like in
Blueberries for Sal
, minus the bear and add another kid. I have so many ideas for posts! But there are only 24 hours in a day!! Next week I'm going to kick off a "Choices in Childbirth" series, discussing the many options women have for care during the childbearing year. But first, an entry to add my celebratory voice to World Breastfeeding Week...
What is World Breastfeeding Week? The
World Breastfeeding Week website
explains that:
"Breastfeeding results from a reproductive health continuum for the mother to the child with no beginning or end, from generation to generation. When a practice is disrupted, it must be restored. However, restoration of the breastfeeding culture demands more resources and mobilization.

In conjunction with the Olympics next August, WBW 2008 calls for greater support for mothers in achieving the gold standard of infant feeding: breastfeeding exclusively for six months, and providing appropriate complementary foods with continued breastfeeding for up to two years or beyond.

As every country sends its best athletes to compete at these global games, it is important to remind ourselves that, in a similar fashion, a healthy young athlete can only emerge from a healthy start on life. There is no question that optimal infant and young child feeding is essential for optimal growth and development.

Supporting Mother = Supporting Her to Provide the Golden Start For Every Child!"
Also, I loved viewing the beautiful results of the
World Breastfeeding photo contest
.
I have breastfed two children, for a total of just over six years. One has been weaned for a while; the other is weaning. During those six years of offering the incredible nutritional benefits of breastmilk, I have experienced so many moments of joy:
the contented milky smile;
eyes rolling in ecstasy;
the brief pull-off to grin that goofy "thank you grin"
sweet baby paws kneading me;
rocking my sleeping but still nursing baby (milk coma), drinking in the sight and smell of baby, baby, baby;
the joy of reconnecting with a big baby or young child after a busy day;
nursing in bed with the baby curled up against my belly;
instantly solving fear, frustration, exhaustion, a temper tantrum, overstimulation etc. with mama-milk;
listening to the contented murmurings and squeaks;
the amusing bob of a frantically rooting infant;
that intense loving gaze of a nursing child;
long long gulping swallowing, gulping gulping;
the surprise of my nursing child who is kicked by her sibling growing in my belly;
baby's wiggle of anticipation as I get ready to nurse;
the funny names my kids came up with: "the other side" "mama gah" "goody milk"
there was even a song, the "goody milk" song - "goody, goody, goody, goody milk, milk MILK"...
There were struggles, too: flat nipples; oversupply with lots (and lots and lots) of leaking; engorgement; baby with a tongue-tie but a good latch; long-lasting nipple soreness from my first baby, the one without a tongue tie (??); thrush (the baby, thankfully not me); one (just one, so thankful) bout of mastitis. The struggles, though, were all short-term, compared to the long-term gift of extended breastfeeding - my gift to my children, who gave me so many gifts back during our breastfeeding relationships...
Baby snuggles: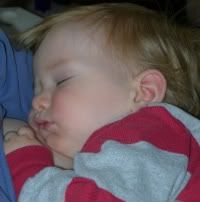 The last day + Weaning Party gift: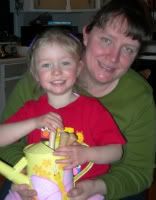 Now he's a big boy, who still loves his "mama gah":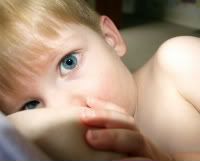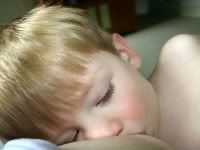 Looking through my archives to find these pictures, I wish now I had a lot more... there are a few of my daughter as an infant that are not digital, but this is about all I have. I wish I'd taken a some every few months or so, especially as young babies. I don't have any tandem nursing pics at all (not surprising, since I only nursed them at the same time a few times, but still, now I really wish I had a few).
I've breastfed my children in a lot of places - at home, of course; in restaurants; at the movies; outside in all four seasons while hiking, camping etc.; at the beach; in the airplane squished between other travelers; in all manner of stores and shops; in the stopped car and in the moving car, with both of us still buckled in; at church; in waiting rooms; at playgroups; at the library; etc & etc. I can happily report, too, that no one has ever asked me to stop or move, or even given me a nasty look.
So that's an introduction, and a little of my personal history. The next post will be online resources and local resources for Central Maine Mamas.
Happy Breastfeeding!
Christina
@
Birthing Your Baby
Independent
Childbirth Classes
in Central Maine
Labels: breastfeeding